Gable Storage Sheds
Gable roof outdoor sheds are the most popular storage solution from Mainus Construction. Most residential homes feature gable roofs, making it incredibly easy for these storage sheds to match the look and style of your home. We customize everything from roof overhang and length to shingles, siding, windows and doors. Our popular 10x12 storage shed with gable roof is perfect for keeping your bulky yard equipment secure without taking up precious garage space.
Browse our gable storage shed price table for extremely reliable standard models.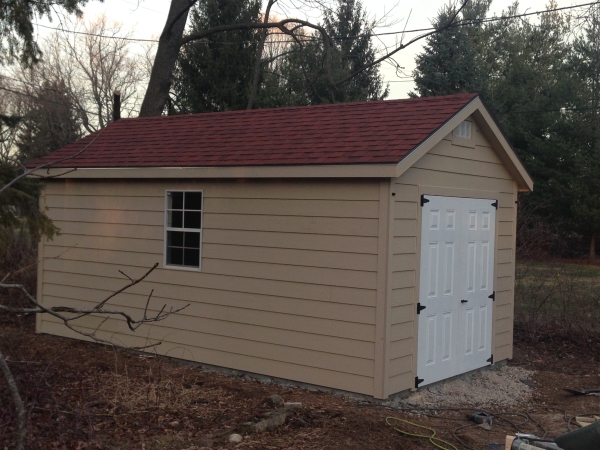 Gable Shed Materials and Construction
All storage shed designs from Mainus Construction utilize LP Smart Trim and Smart Panel products for low maintenance and outstanding weatherproofing. We custom build sheds with sturdy 2x4 wood frame construction and 4x4 floor runners for maximum reliability through the harsh weather cycles in Wisconsin. Outdoor storage sheds from Mainus Construction can be fully customized at your request to include any materials or accessories allowed by local building codes. Our sheds come standard with beautiful finished floors made from high-quality BCX plywood.
Shingle Color Options
| | | |
| --- | --- | --- |
| | | |
| Black | Burnt-Sienna | Desert-Shake |
| | | |
| Dove-Grey | Hearthstone Grey | Heather Blend |
| | | |
| Pewter | Weatheredwood | Woodland Green |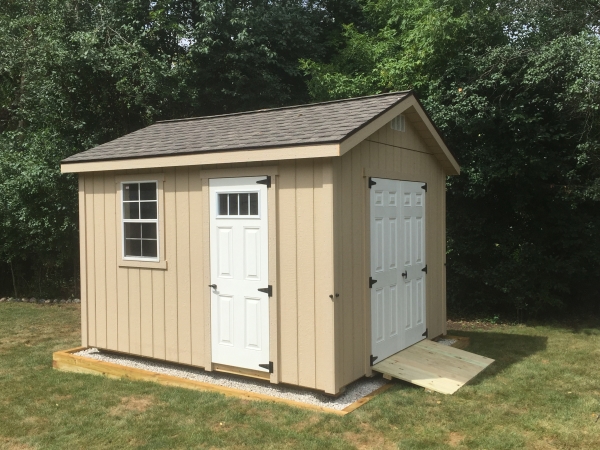 Shed Moving & Shed Repair
We will build you a brand new shed, yes. We'll also just move your current one if that's what you want. Our shed movers have the equipment and knowledge necessary to get your shed safely from one place to another, whether it's inches away or in another city.
Or we can repair your current shed if you're not looking to purchase a new one. Things happen. Trees fall after storms. Kids hit balls through windows. You forget to pull up the blade on your mower as you go over the lip. Whatever it is, we can repair your shed. Just give us a call.
Customizable Storage Shed Options
Advanced or recreational sheds are not out of the question at Mainus Construction.
We build sheds large, medium, and small as well as playhouses, fully-functional plumbing inside poolhouses, workshops. garages, and more. Just tell us what you want, and we'll build it.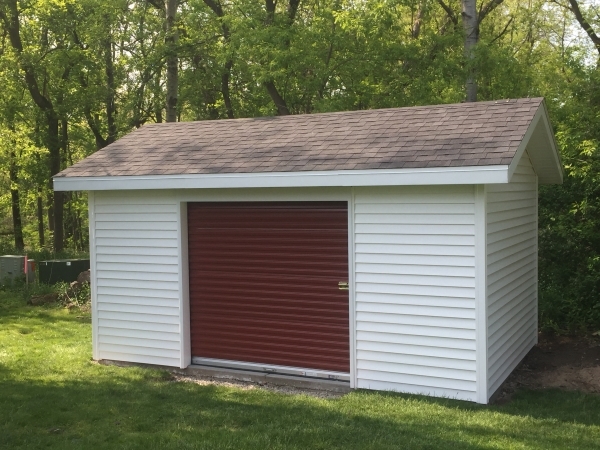 Call Mainus Construction right now for the best storage sheds in Milwaukee. If you can dream it, we can build it.
Gable Roof
6ft. and 7ft. Side Walls
| SHED SIZE | 6ft. | 7ft. |
| --- | --- | --- |
| 8x10 | $3710 | $3950 |
| 8x12 | $3825 | $4125 |
| 8x14 | $4150 | $4275 |
| 8x16 | $4200 | $4475 |
| 10x10 | $4150 | $4375 |
| 10x12 | $4325 | $4700 |
| 10x14 | $4475 | $4925 |
| 10x16 | $4825 | $5290 |
| 10x18 | $5250 | $5600 |
| 10x20 | $6650 | $7020 |
| 12x12 | $4750 | $5020 |
| 12x14 | $5430 | $5750 |
| 12x16 | $5775 | $6050 |
| 12x18 | $6475 | $6725 |
| 12x20 | $6930 | $7225 |