Outdoor Storage Sheds for Lake County
Have a Built-to-Order Storage Shed Delivered to Your Home
Mainus Construction builds custom storage sheds for homes in Lake County, Illinois; performing all services including design, construction, delivery, and installation. If your property is not accessible for delivery, our professionals will build the shed right in your yard.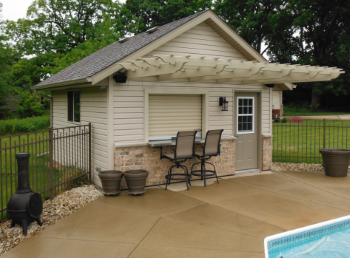 Choosing Mainus Construction as your storage shed builder means you'll receive a fully customized shed, constructed by experienced and trustworthy craftsmen, with the highest quality materials. You know your garden shed will be exactly what you want because you'll choose from customization options including:
Doors
Shingles
Electrical outlets
Lighting
Ramps
Shelving
Siding
Even add a sink or fully functioning bathroom to your shed.
Shed Types Available at Mainus Construction
Every shed designed under the Mainus Construction name is built with LP Smart Trim and Smart Panel products, promising weather protection and low maintenance. Choose from three shed styles:
Gable Roof Sheds: the most popular shed style because most residential homes also have gable style roofs, allowing this shed once customized to match the same design as your home.
Quaker Sheds: also known as Saltbox Sheds, this style features roofs with offset peaks and low reaching rear edges, making it a popular choice for its unique design.
Barn Roof Sheds: featuring wide gambrel roofs, this style includes a loft for extra storage space; perfect for homes and farms.
Our builders are also experts in the design and construction of extra-large storage sheds, measuring over 12' x 12'.
Shed Moving in Illinois
We move sheds using two methods: shed mule and/or truck & trailer. Each one has its distinct purpose. The shed mule is for moving a shed to a different, usually particular, place on the same property. The truck and trailer shed moving combination is used for moving sheds larger distances, from city to city or state to state or even just a mile away.
If you need the shed placed in a very particular place in a different city, we use a combination of the two.
Point is, we're great at shed moving.
Custom Sheds We've Built in Lake County
Mainus Construction delivers custom built storage sheds to locations in Lake County, including:
Waukegan
Avon
Warren
Vernon
Libertyville
Ela
Shields
Fremont

Grant
Zion
West Deerfield
Lake Villa
Gurnee
Highland Park
Grayslake

Mundelein
Lindenhurst
Beach Park
Antioch
Lake Zurich
Wauconda
Benton
Other Shed Services From Mainus Construction
Mainus Construction doesn't just build and deliver functional custom sheds, we also specialize in storage shed repair and shed moving services. Even if your shed only needs to move a few feet, we can help you get it where you want it. We also perform a full range of shed repair services to get your shed back in excellent shape. From new siding or door hinges, to more extensive repairs from fallen trees or extreme weather.