Build & Design Your She Shed to Escape the Daily Grind
"She Sheds" are women's answer to the "Man Cave". Rising from the depths of Pinterest, the she shed has become the latest home project trend. Treat yourself or surprise your special someone with a sacred space for them to detach from the daily grind and reignite a dormant passion. From a messy art studio blaring loud music to a tranquil meditation chamber, she sheds can serve endless functions. Our experienced contractors will help bring to life the home studio, gym, bakery or office you've always wanted. Just give us a call and we can begin realizing your staycation space. With electrical hookups you can add speakers, TVs, mood lighting, sofas, shelving, and lively plants to create the perfect vibe.
Reconnect with one of your dormant passions by entering your own dedicated space. Why build an extra room in your house—costing you tons of financial burden, inconvenience and stress—when you can have Mainus custom build an outdoor space for less?
We can build your she shed in any desired location—perhaps that corner of the garden or maybe right next to your backyard patio. We build our sheds on-site with quality tools and materials to protect it from harsh Midwestern winters.
Our custom she sheds can be used for multiple purposes including: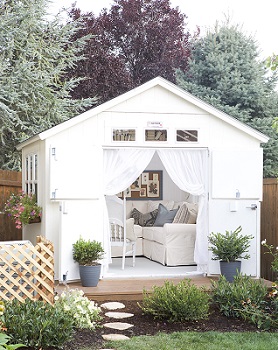 Outdoor home office
Photography dark room
Yoga studio
Mediation chamber
Home movie theater
Creative writing workshop
Arts & crafts studio
Bakery boutique
Literary sanctuary
Quiet Escape from the Stress of Life
Sometimes a door just isn't enough. When you need a real escape but can't afford a vacation, it's time for your staycation from within your backyard.
Our she shed customizable options include:
Windows
Doors
Awnings
Shelves
Lofts
Windowsills
Siding
Lighting
Electrical wiring
And more—you dream it, we build it. We design, build, and install the backbone to your dream space. That's why we only use the best materials to last you years of uncompromised use. In the event of your outdoor she shed showing its age, consult our professional shed repair and maintenance services.
She Sheds Custom-Built in Southeast WI
No matter your intended purpose for your she shed, you can get it all at Mainus Construction. Our she sheds aren't just a makeshift shack meant to be a tool shed—we custom build sheds with shelves, lofts, windows, and lighting and other added features to make them unique to you.