Sheds for Chicken Coops
Raising chickens is a newer trend that has some really amazing benefits. If you think raising chickens is the right choice for you, Storage Sheds Wisconsin can help you build the perfect shed "chicken coop" to keep your chickens safe from animals & Midwest weather.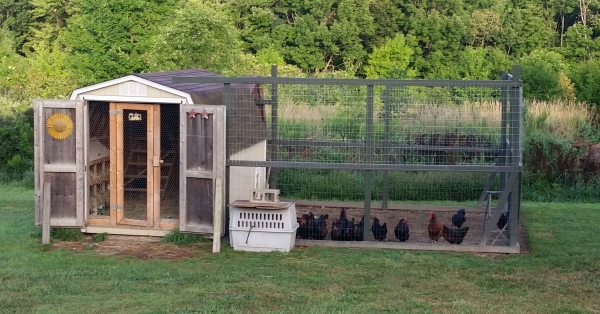 Benefits of raising chickens
Raising chickens can be a fun & rewarding hobby. Raising chickens has more benefits than just a sustainable supply of eggs:
Know you're eating cruelty-free eggs
Chickens claw & eat pesky weeds in your yard
Free garden fertilizer
Free-range eggs have greater nutritional value
Chickens eat pesky insects that invade your garden
Raise healthy & happy chickens with a quality built-to-order chicken coop shed
Midwest weather is tricky—anything from high winds to hail can cause stress for your chickens. More stress means less eggs produced, so investing in a great shed is a necessity. With Mainus Construction, you will get a quality shed that is 100% customizable, with options for:
Windows
Doors
Awnings
Shelves
Lofts
Windowsills
Siding
We can do all this and more—you dream it, we build it. Contact us so we can help you design your ideal shed to use as a quality chicken coop. Our main shed styles include gable, quaker, and barn style. We also have options if you would like a large chicken coop shed.
Flexible Delivery Options
We offer a variety of delivery options. We have a delivery guide so you can find out what preparations must be made for shed delivery. We can even build the shed on-site if there is not an entrance that accommodates a large shed.
Contact Storage Sheds Wisconsin today to build your dream shed.

We serve locations in Wicsonsin and Northern Illinois, including: Milwaukee County, Waukesha County, Kenosha County, Lake County, Rock County, Dane County, Racine County, Winnebago County, Fond du Lac County, Walworth County, Sheboygan County & Washington County.