Large Custom Shed Delivery
Big Custom Sheds Designed to Your Specifications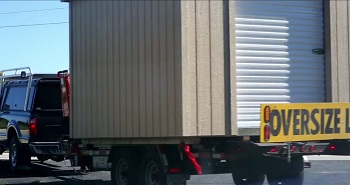 Mainus Construction has been providing the Southeastern Wisconsin and Northern Illinois areas with standard and oversized custom sheds for more than three decades. Unlike traditional shed suppliers or large chain stores, we build ours right at our Waterford, Wisconsin shop and deliver them directly to the location of your choosing. By not being required to build on-site, we can save you money, and spend more of our time focusing on quality.
Our Three Basic Shed Types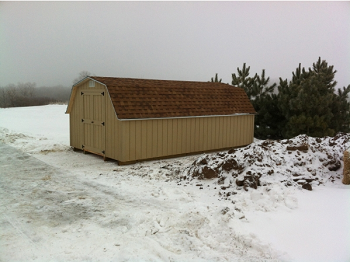 Our custom built sheds come in three different types, and are delivered ready-to-go.
We offer sheds of all sizes in three standardized designs:
Whatever the style, we will customize almost any feature at no additional charge to you. Need a shed but the area isn't suitable for our delivery trucks? Mainus Construction has no issues with building on-site as well.
Shed Delivery
Even our biggest sheds (in excess of 12 x 12) can be delivered with no extra charge or hassle. All we ask for is a level concrete pad and an obstacle-free, stable area for our driver to back into. We will back-up, unload, and then shim/level your shed.
After we check your windows, doors, and other components to ensure everything is working properly, you are ready to go.
Large Shed Customization at No Added Cost
Everything from window type, shingle color and style, and door placements are customizable on our sheds. Check out our extensive custom shed photo gallery for just a few of the high-quality sheds we have constructed over the years. All of these alterations will cost you nothing extra. It's hard to go wrong when you are receiving a hand-tailored shed built with you in mind. We utilize LP Smart Trim and Smart Panels, making it easy for you to paint your shed in the color of your choosing.
Contact custom oversized shed builders at Mainus Construction to get the design process started.