SHED DELIVERY: Yard Preparation & Walk-Through
SITE ACCESS
Be aware of the location of septic systems if you have one, we can not drive over your tanks safely because of the weight of truck and trailer.
Provide a suitably prepared site with access going over a driveway or across (relatively) level solid ground.
Provide adequate clearance around any trees, plantings or other structures on the property.
Note: If we can drive straight onto your property, any fence opening or gate needs to be...

12' wide for 10' wide buildings
14' wide for 12' wide buildings.
Fences or gates 8' or higher, add 2' extra.

Overhead clearance should be 14'.
50' to 60' minimum drive-away area from the end of the shed after it comes off the end of the trailer. This should be as level as possible from pad site to ground level.
DELIVERY PROCESS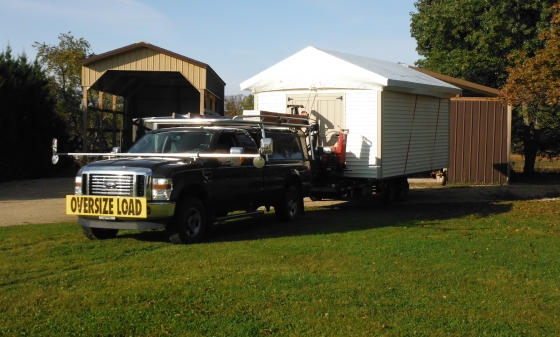 Building arrives at your property with 1-ton pickup and 20' shed trailer. The overall length of truck and trailer is 46 feet.
Driver backs up to your prepared site
The trailer is raised, using a hydraulic system, to enable the building to slide off the back.
Using a roller chain winch, built into the trailer, the driver pushes the building about 1/3 down the length of the trailer so that the end is resting on the ground.
Next, the driver slowly pulls forward allowing the rest of the building to slide off the trailer and into position.
In the event that the building needs to be aligned or re-positioned, our trailers come equipped with a side-shift platform on the back. With the back of the building on the ground and the front resting on this platform, the building can be shifted up to 2' to the left or to the right before being placed completely on the ground.
After the building leaves the trailer, our driver's final step is to make sure the building is level and to shim corners as needed.
Finally, all doors and windows are checked to make sure they operate properly and are not stuck or jammed due to the building being off level or any twisting of the building during set-up.
Custom Sheds Built On-Site
If you know your yard is difficult or will not meet our accessibility requirements above, plan in advance with Mainus construction and we'll build your custom shed on-site. After proper planning and consultation, we will bring the materials to the property and build the whole thing right there.
This Milwaukee home needed their shed to be built on-site due to an inaccessible yard—tight spaces in Milwaukee are no problem to us. Check out our gallery for other custom or pre-built options and stories of how Mainus got the job done right.