Custom Goat Sheds & Pens in Southeast WI
Raising domesticated goats is growing in popularity due to the organic, non-GMO movement. Goats can be a healthy, safe source of dairy that has some amazing benefits. If you're ready to start raising your own goat or a tribe of goats, Storage Sheds Wisconsin can help you build the perfect pen shelter to keep your goats safe from animals & Midwest weather.
Mainus Construction builds customized sheds to meet your exact needs and specifications. With the best craftsmanship around – we have you and your goats covered.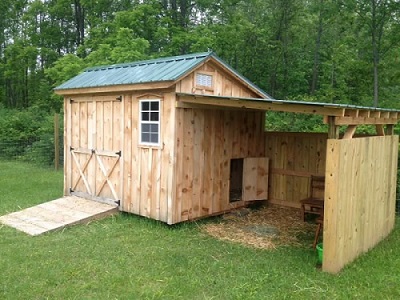 Goats require approximately 130 feet of outdoor space to roam and a protective shed for strong winds and weather. Our contractors can build protective pens for all sorts of domesticated farm animals including;
Goats
Chickens
Pigs
Rabbits
Donkeys
Geese
Ducks
Turkeys
Llamas
Benefits of Raising Goats
Of all the farm animals, goats are the most intelligent and loyal animals. Raising goats can be a fun and rewarding hobby. Raising chickens can be a fun & rewarding hobby. Raising goats have many benefits and can create new sources of income unlike dogs and cats.
Goats are loyal pets that are as playful as dogs but also gentle around children
Dairy goats will produce milk and cheese and their milk is healthier and easier to digest than cow's milk
Dairy goats are much more cost effective than dairy cows
Certain goat breeds can produce fibers like wool, cashmere, and mohair
Goats produce manure which is excellent fertilizer for gardeners and farmers. Goat manure is also odorless when dry unlike cow manure.
Goats clear land and eat unwanted weeds and plants – even pine needles, leaves and tree bark!
Raise Happy and Healthy Goats with a Custom-Built Shed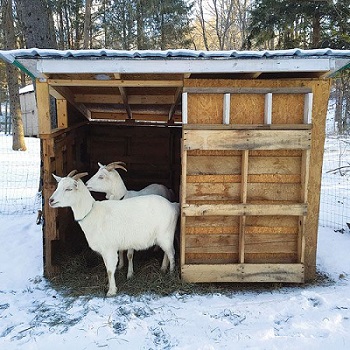 Midwest weather is tricky—high winds and severe weather like hail can be dangerous for your goats. Goats need a shelter to stay safe and warm through the cold months. With Mainus Construction, you will get a quality shed that is 100% customizable, with options for:
Windows
Doors
Awnings
Shelves
Lofts
Windowsills
Siding
We can do all this and more—you dream it, we build it. Contact us so we can help you design your ideal shed to use as a quality goat pen. Our main shed styles include gable, quaker, and barn style. We also have options if you would like a large goat shed.
Contact Mainus to start building or to get more details on cost and customization.
Choose On-Site Construction or Shed Delivery
Whether you need a large shed for a tribe of goats or a smaller shed for one goat, Mainus Construction can complete the job in a few short days. We offer both on-site construction for an additional service fee or a pre-built shed delivery service. Our delivery service includes properly setting and securing your structure on your property.
Avoid days of noise and construction on your property with our delivery service. Instead, we use our industry leading Shed Mule and shed delivery trailer to transport the finished structure to you. Depending on the size of the shed, it can take as little as an hour or two for us to deliver and set the shed.
We offer financing options if you don't want to break-the-bank simple financing options – no credit check required!

We serve locations in Wicsonsin and Northern Illinois, including: Milwaukee County, Waukesha County, Kenosha County, Lake County, Rock County, Dane County, Racine County, Winnebago County, Fond du Lac County, Walworth County, Sheboygan County & Washington County.