Sheds to Match Your House – Wisconsin & Northern Illinois
Building a Shed in the Same Style as Your Home
Want a shed that matches your house's style, giving your property a unified look? Mainus Construction builds custom outdoor sheds of all types, and our team of carpenters can craft you one that feels like it belongs with your home.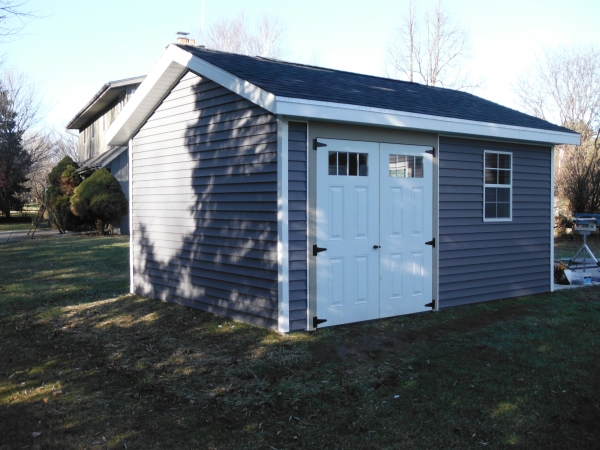 From siding color and window type to roof style and overall design, we can build your shed to be an extension your house's architectural theme. This house-matching option is available for whatever type of shed you need, large or small:
Toolsheds
General storage sheds
Pool houses
Vehicle sheds & garages for tractors, cars, or lawnmowers
Golf equipment sheds
Backyard art studios
Barn sheds for horses or other livestock
Outdoor home offices
Sports equipment sheds for schools (matching the style of the school)
…And more
Contact us for expert shed design and construction to match your house's style.
Sheds That Look Like Houses
Maybe you don't just want a shed that matches your house – maybe you want it to look like a little house itself. We can do that too! Stylish sheds built to look like they're tiny homes reverse the whole idea of ugly utility sheds and add backyard symmetry.
Nestled in the vibrant greenery of Wisconsin yards, sheds that look like houses are both functional and aesthetically pleasing.
Style & Customization Options for Wisconsin & Illinois Sheds
Like Amish sheds, our sheds are high-quality, durable, and custom-built. Whether you want a Gable Shed, a Barn Shed, a Quaker Shed, or a completely unique look that you've been dreaming up, Mainus Construction specializes in customizing our construction to meet all your needs and preferences. Some of our specialty options include:
Ramps
Outlets & power
Lighting
Plumbing
Awnings & covered outside work areas
Bars or snack windows
Lofts
Roll-up doors
…And any visual design customization you want!
Walls, floors, doors, windows, roofs – we'll make it all exactly how you want. If you have an idea, we can build it for you.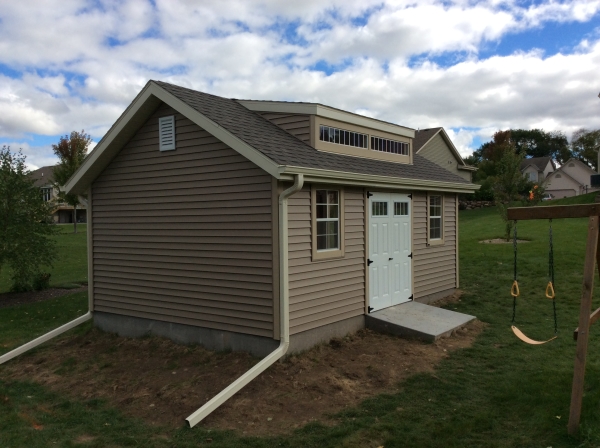 We typically use vinyl plastic siding so you can avoid maintenance – no painting and scraping and repainting. But if you need a different type of siding to match your house's style, we can build with the materials that work best for you.
Our company has great deals on construction prices and we offer simple financing if you'd like to spread out the cost – no credit check required!
Shed Delivery in Southeastern Wisconsin & Northern Illinois
To streamline the building process and avoid construction noises on your property, we build sheds and then deliver them to you, already complete. You can provide us with a level site for the shed, or we can even prepare a site for you. Typically, the shed delivery and setting only takes about an hour, thanks to our delivery trailer and industry-leading Shed Mule.
If you're prefer that we build the shed on site at your property, we can do that too!
We serve customers across Southeastern Wisconsin and Northern Illinois, from Milwaukee to Madison and Rockford to Schaumburg.