From Craft Spaces to Traditional Sheds
Custom Built Storage Sheds in Wisconsin and Illinois
The right design for your perfect space
Mainus Construction specializes in bringing your dream shed to life. With quality materials and architectural designs to accommodate just about any need, we can bring your outdoor space to fruition.
Yard sheds, storage sheds, garden sheds, you name it and we've built it, just check out our storage shed gallery for inspiration on your next project.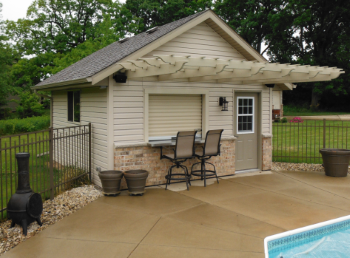 Outdoor Storage Shed Solutions
We have durable shed templates to get your base started, including gable sheds, saltbox sheds, and barn sheds. These classic option can be built on our property and brought to your home for installation, or we can build the shed directly in the perfect spot if shed moving space is limited.
Traditional Storage Sheds
We've seen it all, we've built them all: the traditional storage shed holds all of your daily stuff in one convenient location right in the back. We've built:
BBQ Equipment
Seasonal utilities
And more!
And many more--our gallery of sheds proves that--but we're interested in what you need built.
Creative Outdoor Spaces
If those pre-built plastic sheds from big box stores just can't fit your needs, then Mainus Construction will design and build you the creative space you've always wanted. Our outdoor sheds can be fabricated with custom design elements, including:
Interior shelving and lofts
Custom doors and windows
Colorful siding to match your home
Ramps going into the shed
And more, contact us for more information.
We're capable of building spaces for:
Animals
Private bathrooms
Woodworking shops
And more!
Come to Mainus Construction to customize your next dream shed for whatever use you see fit. From storage to studio, we've got the right designs, tools, and experts to build the perfect outdoor shed for you.
Commercial Business Storage
Yeah, you read that right, we do more than build storage for homes. If your business needs storage space that goes beyond the walls of your company, then we're the shed builders you want.
We can build storage unites for restaurant furniture to fit perfectly in the back of your establishment, sheds for golf carts for the cold seasons, storage units for school sports equipment, and more. Just call us with any questions, we're sure we can build your dream space.